When talking about a trip to Fukuoka, what you may immediately associate with is superb gourmets, such as "Hakata Ramen", "Motsunabe", and "Mentaiko".
Such gourmet prefecture is "Fukuoka Prefecture", but superb is not just gourmet.
There are many other sightseeing spots, including shrines and temples inherited from Nara period, too excellent superb views, fashionable commercial facilities.

4 Maid Cafes and Maid Reflexology Parlors in Tenjin, Fukuoka To Refresh Your Body
Where do you visit when you come to Tenjin, Fukuoka? I think that...
This time, Let me introduce 25 sightseeing spots recommended for your trip to Fukuoka.
Kammon Straits Separates Main Land and Kyushu
Kammon Straits separates Shimonoseki City (Yamaguchi Prefecture) of Mainland and Kitakyushu City (Fukuoka Prefecture) of Kyushu, and the straits are entrances and exits both of main land and Kyushu.
"Kammon Bridge" has been built in 1973 as a road bridge crossing over the straits.
Connecting Dannoura, Shimonoseki City and Moji, Moji Ward, Kitakyushu City, with the length of 1068 m and the maximum span of 712 m, the bridge was the longest bridge in the East not just in Japan at the time of opening.
A sightseeing spot where you can overlook the Kammon Bridge is "Mekari Park".
You can view not only the illumination of Kammon Bridge just close, but also nightscape of Shimonoseki, Moji and Kokura, so it is a popular spot for nightscape.

Connecting Kitakyushu City of Kyushu and Shimonoseki City of Honshu, "Kanmon Pedestrian Tunnel" opened in Showa the 33rd (1958) is the only place in the world where you can cross under the straits by walk.
It takes about 15 minutes walk for crossing the tunnel, and it is cool in summer and warm in winter.

16 travel spots for Yamaguchi Tourism
In 2015, Yamaguchi Prefecture, the westernmost part of Honshu,  the ...
Not only tourists but also local residents use for jogging and walking, and it is also a place for refreshment.
The sign that is located on the border between Fukuoka and Yamaguchi is a perfect spot for photos.

Trolley sightseeing train "Shiokaze" that connects Kyushu Tetsudo Kinenkan station (Mojiko station) and Kanmon Kaikyo Mekari station at maximum speed of 15 km is the slowest train in Japan.
You can look well retro buildings of Mojiko port from car windows that are with no glass.
The best highlight is a tunnel.
Here in the dark, an effect illuminating fish, which live in Kanmon Straits, on the ceiling of train is the highlight.
Kyushu Saihokutan (the farthest north) station, where you can shoot photos together with a station signage of "Kyushu Saihokutan station" with the sea as background, is also a perfect spot for photos.

Funny Spots for Sightseeing Fukuoka
We have rounded up of funny spots and interesting famous sightseeing...
Mojiko Port Retro, Full of Exoticism
What "Mojiko Retro" of Kitakyushu City, Fukuoka Prefecture is a popular sightseeing spot where renovated hotels and commercial facilities of mainly buildings built until early Showa period with Taisho period style.
As it is illuminated during a night, it has different elegance from that during a day.
From a harbor deck in front of "Kaikyo Plaza", which can be said as a center of Mojiko Port Retro, you can overlook some illuminated "Former Osaka Shosen Building", and you can feel comfortable sea breeze in summer.
"Kaikyo Plaza" is a commercial facility complex of some souvenirs shop and restaurants, and restaurants open until late at night.
Built at "Mojiko Daiichi Fune Damari" in October, 1993, "Blue Wing Moji", which can be said as a symbol of Mojiko port that is a sightseeing place with beautiful retro townscape, is a drawbridge only for pedestrians and is one of the largest in Japan.
During 10AM until 4PM everyday (except at 12PM), a parent bridge of about 24 m and a child bridge of about 14 m leap to 60 degrees angles from the water surface once an hour.
When you look up from a foot of the bridge, you can overlook spreading the sky of a beautiful Mojiko port and landscape with full of exoticism.
There is reproduced townscape of Mojiko port in Taisho period in real size in "Kanmon Kaikyo Museum (Kaikyo Dramaship)".
Some scenes are reproduced on the ground and the second floors, and these are full of retro feel.
When you get closer to statues, you can hear conversation, so please try for sure listening at the scene.
Admission for the reproduction corner of Mojiko port is free.
There is also a real "tram of retro type", and you can play so happy that you may be fun-fighting over a driver's seat with your kid.

Spend Best Night in Mojiko Retro with Nightscape, Kitakyushu City
Mojiko Retro, Kitakyushu City, a popular sightseeing place is a dati...
Kawachi Fujien Wisteria Park
Shared in SNSs like Twitter and Facebook, "Kawachi Fujien" of Kitakyushu City, Fukuoka Prefecture gathers attentions all over the world.
It is also nominated as one of "the best beautiful 31 places in Japan" selected by CNN of the United States in 2015.
The best highlight here is "a tunnel of wisteria trellis and wisteria flowers", which is proudly over an area of 1850 tsubo (approx. 6,115 square meter) flowering.
During blooming season, there bloom profusely 22 kinds of wisteria flowers, and you will be overwhelmed with the beauty as soon as you enter.
It is crowded with many tourists during the Golden week (about one week consecutive Japanese national holidays around from late April through early May) that is the best season of flowers every year.
Please for sure go seeing the most beautiful wisteria trellis tunnel in Japan.
"Kawachi Fujien" is a private wisteria park, being proudly one of the largest in Japan, located in Kawachi, Yahatahigashi Ward, Kitakyushu City, Fukuoka Prefecture, and it is a sightseeing spot where you can view beautiful landscape.
The wisteria tunnel is not the only highlight.
There is a spacious square of about 1000 tsubo (approx. 3,300 square meter) covered with wisteria trellis, after climbed up the tunnel, and you will also be overwhelmed with the large scale of wisteria trellis there.
Viewing hanging clusters of wisteria flowers in just front of you, you can spend slowly a luxury time under the extensive wisteria trellis.

Japan's Wisteria is Recommended After Enjoy Cherry Blossoms
It's sure that cherry blossoms are famous for foreigners. However...
Cat Islands Recommended for Cat Fans
There are numbers of islands called "a cat island" in Japan.
It is said mainly about an island that became a sightseeing place because there are more population of cats than that of human, due to some circumstances, and what introduced this time is "Ai no Shima", a cat island of Kitakyushu City, Fukuoka Prefecture.

A Cat Island "AinoShima" with A Day-trip In Kitakyushu, Fukuoka
There are numbers of islands called "a cat island" in Japan. A ca...
Ai no Shima is a small isolated island of Kitakyushu City with circumference of about 13 km.
Population of human is said a little less than 300.
It is a pastoral island, but the number of wild cats is said about 300, so tourists are increasing for visiting to "a cat island" in recent years.
There is one more cat island in Fukuoka.
Taking a train and ferry from Hakata for one hour to one and half hours, you can reach "Ai no Shima".
Although it is complicated because the pronunciations are exactly the same as Ai no Shima, this island is located in Kasuya District.

A Cat Island, "AinoShima" In Ashiya-gun, Fukuoka
Famous as "a cat island of Fukuoka" is AinoShima. When you hear s...
* Two islands have different names using two different Chinese characters of "Ai".
On the island of circumference of about 8 km, there are various how to enjoy, such as strolling, fishing, and gourmet, other than playing with cats.
Please indulge yourself with relaxed time on the island.
"Shika no Shima" Gold seal of Kanno Wano Nano Kokuo
* Kanno Wano Nano Kokuo is Gold seal given by Later Han Dynasty in China to the mission from Japan.
The seal means the king of Japan.
Shika no Shima, which is known as the place, where "Gold seal" that are engraved five characters of "Kanno Wano Nano Koku Ou" has been found, is located in north part of Hakata Bay, where taking about 50 minutes by car from JR Hakata station.
It is an island connected with a land by sandbar, called "Umi no Nakamichi (the center road in the sea)".
You can view from "Shiomi Observation deck" not just shape of the sand bar, a spreading sight in 360 degrees, but also Genkainada and Hakata Bay, and towns of Fukuoka City and Umi no Nakamichi Seaside Park, also Fukuoka airport.
Shika no Shima, where you can enjoy ancient romanticness, blue sea spreading all around, and landscape of dynamic sunset, is the recommended sightseeing spot in Fukuoka.
Shika no Shima island is located only for 30 minutes away by ferry from the Fukuoka City, and its circumference is only 9.5 km.
It is a small island, which you can drive all around in 20 minutes by car.
The island belongs to Genkai quasi-national park, and is the beautiful place just matching words like "white sands and green pines".
The sunset setting in Genkainada is especially breathtakingly beautiful.
* "White sands and green pines" is often said in Japan describing the beauty of Japanese beaches.

Sunset of Japan: Fantastic Natural Phenomena Known Between Locals
I introduced blue glowing sea before. In this article, let me sho...
It is good to strolling on the beach, also is good to try walking trails around, and of course, you can enjoy sea bathing in summer.
Please spend your specially reserved holiday on Shika no Shima island.
The gold seal written Kanno Wano Nano Kokuou has been excavated in 1784 on Shika no Shima island.
Kin-in Koen (Gold seal park) is created in the place where is said that the seal was found.
The park is also a superb view point with spreading view of Hakata Bay in its front, so this is where you should definitely to visit.
As the found gold seal is designated as national treasure, it is exhibited in Fukuoka City Museum.
Also, as there is Mongolian mound built for praying for Mongolian army at a place ten minutes walk, please try visiting also there for your sightseeing.
Marine World Umi no Nakamichi

Located in the peninsula of Fukuoka City, surrounded by Hakata Bay and Genkainada, "Marine World Umi no Nakamichi" is a sightseeing spot where you can see various sea livings.
It is one of the rare aquariums where you can watch the bubble ring performance by small dolphins or "fin-less porpoises".
The aquarium holds many shows and events, such as dolphin and sea lion show, sardine typhoon, and among them, sea otters' dining in public allures kids.
As if committed to hospitality, sea otters sometimes get closer to the visitors and wave its hands.
Why don't you spend your wonderful travel at one of the largest aquariums in the western Japan?
When you pass under a gate of tunnel shaped water tank that appears first on the third floor, there projects a tube shaped water tank from the floor below.
Surprisingly, you can watch the beautiful water tank which is two-storied deep (10 m) like an atrium.
There are prepared many other excited attractions, such as "decorated hermit crabs" with decoration on the shells, "exploring beach" where you can actually touch starfish and sea cucumbers, and "night aquarium" held only during limited period.
You can feed seals and sea lions of sea beast in "Marin World Umi no Nakamichi", Fukuoka's happy sightseeing spot.
When you stand at the fish insertion slot, sea lions and seals get closer to be given feed.
It is the facility where you can feel close their cute postures and how they are fed.
It is held regardless the days of a week, but numbers of feed are limited.
It is recommended to go there as early as possible after your entry.

Super cute creatures of "Marine World Uminonakamichi"
The Marine World Uminonakamichi, located in the Uminonakamichi Seasi...

The Nemophila Rug can be enjoyed in Kyushu! Fukuoka "Uminonakamichi Seaside Park"
It's a pretty spring scene with a blue-sky, blue carpet of Nemophila...

Enjoy cosmos and kokia spread around you at Uminonakamichi Seaside Park!
"Uminonakamichi Seaside Park" is a national park located in Higashi ...
Fukuoka Tower a Landmark
"Fukuoka Tower" is a landmark-like building Fukuoka and is a popular sightseeing spot.
It is illuminated throughout a year.
The stylish appearance of 245 m height is also attractive, and is also perfect to memorial photos!
When you say about Fukuoka Tower, a superb view from the observation deck (three storied observatory) is super classic.
It is the popular spot even selected as the best 100 nightscapes.
Because the floor located the observation deck is at the height of 123 m, it is named as "SKY View 123".
Nakasu, Best Entertainment Street in West Japan
"Nakasu" is Located in between "Commercial city, Hakata", where merchants built the city, and "Samurai warrior town, Fukuoka", where Kuroda family built the castle.
Where Nakagawa River, Hakata River, and Yakuin Shinkawa River flow, Nakasu is an entertainment street representing the west Japan, and gathers crowded with tourists.
"Fuku-Haku Deai Bridge", meaning literally Fukuoka and Hakata meet on the bridge, crossing there is named after because the bridge connects Fukuoka and Hakata.
There are many yatais, specialty in Fukuoka, in line along Nakagawa River around Haruyoshi Bridge.
* Yatai is a small traditional Japanese restaurant or more like a stall.

And, as there are also many yatais around Tenjin area, it may be also a good idea to experience some of yatais for your memory of trip.
When you say about a yatai, a famous sightseeing place in Hakata, "Tonkotsu Ramen (Ramen noodle with pork bone broth)" is famous, but if you find "Yaki(grilled) Ramen", please try eating it by all means.
You can eat it at restaurants of more than half of yatais that serves a ramen.
As it may be troublesome to go there often because of a long waiting line, as soon as you find any interesting menu, you would be better to order them at that time.
And then, when you left there happily……, let's go to the next yatai as well!
A night in Hakata will not begin without going to a yatai.
Your heart will absolutely be happy with Hakata specialty that you will eat at a yatai with a full of friendship.

14 Restaurants of Nakasu in Fukuoka that only local knows
Introducing exquisite gourmets that are around Nakasu, downtown of t...

IZAKAYA New Style of instagrammable "TEMARI Sushi" in Fukuoka Tenjin
Proud of the Hakata Tenjin area in Fukuoka is seafood. Do you kno...
Nagahama Ramen Want to Eat at Yatai
"Number one" is very popular restaurant, located at the entrance of Nagahama yatai street, and the waiting line of this restaurant can also be said as a mark of Nagahama Ramen yatai street.
As for a ramen, it looks like a typical simple tonkotsu ramen.
Broth is a bit thick but smooth, and noodles are medium-thin thick as can be said compared to the standard of Hakata ramen.
What you can eat smoothly and easily even after drinking is the authentic Nagahama ramen!
The restaurant is absolutely satisfactory together with excited atmosphere of the yatai.
In "Long Beach", I had an impression that guests are a bit younger generation allured by a smile of young master of a gentle smile.
The restaurant is relatively new among Nagahama yatai street, and inside of the store and around tables are clean.
The restaurant can be recommended also to ladies who have allergy to a yatai.
Noodles are impressive thin straight and broth is full-bodied but not too heavy, so you can eat easily.
This is definitely a ramen for after drinking.
For those who like to drink alcohol with snacks of a full of meat, "Long Beach" is recommended.
Kushida Jinja Shrine, Hakata Gion Yamakasa
"Kushida Jinja Shrine", located at corner of Kawabata stores street, a center of Fukuoka, is commonly called with a nick name of "O Kushida San" by a local community.
In summer, the biggest event for people in Hakata, Hakata Gion Yamakasa will be held.
You can see the elegant and beautiful "Kazariyama (decorated mountain)" in the ground of the shrine throughout a year.
As access from Hakata station is relatively convenient, it is a popular spot for foreign tourists.
Various places to see in the shrine ground are also must-checks.
Please try strolling slowly around the ground, looking at "Japanese Zodiac favorite direction table" decorated colorfully on the ceiling of two-storied shrine gate, "Ginkgo of Kushida", a sacred tree of 1000 years old, and "Couple ginkgo", sacred trees.
Three enshrined deities at Kushida Jinja Shrine are Ohata Nushi Mikoto, Amaterasu Oh Mikami, and Susano No Mikoto, and there is the well of Reisen Tsuru, where the water for the eternal youth spring out in the shrine ground.
On the last day of "Hakata Gion Yamakasa" festival, there holds "Kushida Iri", the start of Oi Yamakasa, and it's sure that you want to watch it, but even if you cannot visit there according to the schedule of festival, there is an exhibit that you will be excited with.
As "Kazari Yama" vividly decorated has been dedicated and exhibited permanently in the shrine ground, you can enjoy the powerfulness of Yamakasa and feel the atmosphere of the festival.
Fukuoka Zoo & Botanical Garden, With Your Family
Fukuoka Zoo & Botanical Garden of Chuo Ward, Fukuoka City is located in the city taking about 20 minutes from Hakata by bus.
Not to mention that you can enjoy animals and plants, there are attractions like a ferries wheel and a merry-go-round, also there is a science museum where you can see skeleton of animals.
It is a sightseeing spot with so much of attractions and facilities where adults and kids can enjoy whole day.
At the friendship corner of the kids zoo, on some days of a week touching events are held with guinea pigs and rabbits.
"Zoo & Botanical Garden" is surprisingly full of nature even in the town of Fukuoka City.
Why don't you casually drop by?

The botanical garden is located next to the zoo and connected inside, so you can come and go with the same ticket.
The highlight of the botanical garden is anyway the vast greenhouse that is divided into 10 zones.
Rare plants, such as orchids and succulent plants, of about some 900 kinds are collected in the green house that is 2800 square meters, the plants are divided into eight rooms and two gardens by the species.
As you can enjoy plants of different seasons from that of outside, you will be very satisfied with visiting here for sightseeing in any season.
Yanagibashi Rengo Market, a kitchen of Hakata
Located in the center of Fukuoka City, "Yanagibashi Rengo Market" is a very old market with a history that was said that it was began around 1918 when some fish merchants started selling fish at a foot of Yanagibashi bridge crossing over Nakagawa River and was named as "Yanagibashi Renbai Market".
And then, as various unions gathered, it is said that it became called as "Yanagibashi Rengo Market" as of today.
* Rengo means a union in Japanese.
In recent years, the most half of sales of the market is from foodstuffs for hotels, Japanese traditional restaurants, and restaurants, so you may understand that there is absolute trust in freshness of foods that are sold in the market.
It is definitely "a kitchen of Hakata" both in name and reality.  You cannot tell about Hakata gourmets without telling about the market.
There are about 50 stores inside the market, and fresh fish stores are lined in a row on the main street.
There are also various stores in a row, including fruit and vegetable stores, tofu (bean curd) stores, and stores selling satsuma age, a specialty of Kyushu, Hakata.
Among them, there are also fashionable cafe stands, bakeries, and stores selling souvenirs of Hakata, so you can enjoy eating around a bit and finding souvenirs.
* Satsuma age: a deep fried patty of fish paste with a bit of vegetables
"A food labyrinth" packed with various foodstuffs is the recommended spots where you can undoubtedly enjoy even for the purpose of sightseeing.
Ohori Park, an Oasis of the City
"Ohori Park" is a popular area as the preferred living area in Fukuoka City.
While located in five minutes by subway from Tenjin, it is an area rich in nature where you can forget hustle of the city.
In the park, in addition to rich nature, there are many spots that you cannot miss for both a trip and sightseeing.
Such as strolling, appreciating art museum, also there is a fashionable cafe….
It is great value to try going to Ohori Park during your trip.
As it is near to the city center, and as you can go there easily by public transportation, why don't you try visiting there in your free time and for a short break during your trip?
For the one who is a bit tired as bathed the sunlight too much, please go to "Fukuoka Art Museum" located the south side of the park.
It is a popular sightseeing spot where hold many events every day, such as exhibits of limited periods that change themes every time you visit, permanent exhibits and lectures.
For those who have an interest in art and works, it is also good to try checking the themes of exhibits in advance to your visit.
When you visit to Nishi Park, let's visit also to Terumo Jinja Shrine settled inside the park.
Enshrined deities are Yoshitaka Kuroda (Kanbei/ Josui), a founding restorer of Kuroda family, and Nagamasa, his son.
The Buddhist name of Yoshitaka is "Ryokoinden" and that of Nagamasa is "Kouninden", and the shrine was named taking each one character from their Buddhist names.
When you toss coins to a donation box, a sensor reacts, and you will automatically hear a cry of a crane.
As it is unusual mechanism, let's try for sure tossing coins when you worship.
Hakata Ramen, a Classic of Hakata Food
"Hakata-Issou", located in five minutes walk from Chikushi exit of Hakata station of Fukuoka Prefecture, is a ramen shop opened independently in 2012 by artisans trained at also a famous ramen shop "Ikkousha".
Now "Hakata-Issou" became representing of Hakata ramen, and there are always lines of waiting customers at the famous shop.
The bubbling milky white tonkotsu broth.
The surface is glittering with white back fat-like floating thing, and it has distinctive smell of Tonkotsu… anyway, it is appetite tantalizing visuals and smells.
Original taste of tonkotsu spreads around inside of your mouth.
Once you eat, you will be addicted for sure.
Established in Showa the 60th (1985), "Ippudo" is a king of ramen industry, having won as a champion at many TV programs of ramen since its opening, and having received most of all the various awards.
And such popularity does not stay just in Japan, and it is the world's famous shop, having many branches worldwide.
The broth is made of tonkotsu, and you will select one from two kinds, which are "Shiromaru Moto-aji", with mild taste removed bad smell of pork, and "Akamaru Shin-aji", with rich taste by adding flavor oil and spicy miso paste.
Also, noodles are homemade thin noodles that match well with the broth.
"Hakata Daruma", established in Showa 38th (1963) is a ramen shop for thick taste, proud of rich broth with abundant back fats that match with homemade extra thin noodles.
In popular"ramen with hanjuku nitamago (a half boiled seasoned egg)", there are a really well seasoned egg and melting char-siu (sliced grilled pork).
"Zenbu nose ramen (ramen with all the toppings)", on which topped with all the toppings proud of the shop, is a big size luxury dish.
It is the recommended shop for the one who likes to eat a thick delicious ramen.

8 Selections of Hakata Gyoza
Gyoza matches excellently to a beer and is a splendid locals' favori...
Place Related with the Name of New Era, "Reiwa" in Japan
As Heisei period ended, it is now "Reiwa", the name of the new era.
A stage of "Reiwa" is a house of Otomo no Tabito, which was located in Dazaifu City, Fukuoka Prefecture.
"Reiwa" was adopted from preface of 32 waka (a 31-syllable Japanese poem) read at "Baika no Utage (Plum blossoms feast)".
After the announcement of "Reiwa", "Sakamoto Hachimangu Shrine" and "Dazaifu History Museum" became very popular as related places.
The house of Otomo no Tabito was in "Sakamoto Hachimangu Shrine", and there is a diorama of "Baika no Utage" reproduced with Hakata dolls in "Dazaifu History Museum".

12 Ichijoji Ramen in Kyoto
Kyoto has "ramen koji" where many ramen shops of all over Japan are ...
Itoshima Island, Photogenic Spots
Itoshima City is located in about 30 minutes by car from the center of Fukuoka Prefecture.
It is the place where tourists attention gather not to mention to the rich nature,  but also to fashionable restaurants and the Michi no Eki (a station of a road) rooted in a local community.
A beach located in the north, Sakurai Futamigaura is a famous place for sunset, even selected as one of the best 100 Japan's sunsets.
There are Meoto Iwa Rocks (Married couple rocks).
Talking about Meoto Iwa Rocks, you may think that Ise Futamigaura of Mie Prefecture is famous as sunrise sightseeing spot.
And, although it may not be well known, sunset Meoto Iwa Rocks as the opposite side of a pair are this Meoto Iwa Rocks of Sakurai Futamigaura.
"PALM BEACH THE GARDENS" is a commercial complex where gathered shops like restaurants, cafes, and  variety stores.
It is the spot where you can enjoy lunch and cafe, overlooking the beach.
Just near, there is also a wall painting of "Angel Wings", a popular photo shooting spot for SNS!
Of course for the taste, also as a ramen shop with partitions, "Ichiran" is nationwide famous.
Although now it became that you can taste not only in Hakata but also various regions, there is a sightseeing spot where you can taste an unusual ramen that "you-can-eat-only-here".
There are a manufacturing factory, a shop, and a souvenir store attached in a vast ground of "Ichiran no Mori Forest", located in green rich place in the center of Itoshima Peninsula.
And the event of illumination is also held, it is a forest for relaxing where you can enjoy a whole day.

Itoshima in Fukuoka, Things to Do and Instagrammable Spots
Itoshima is a city in Fukuoka prefecture in Kyushu area which is loc...
Dazaifu Tenmangu, God of Studying and Learning
Dazaifu Tenmangu Shrine, where enshrined Lord Sugawara no Michizane, is known as God of studying and learning of one of the most famous in Japan.
During a season of entrance examinations, there are crowded with visitors for worship and visitors giving charms to family members and acquaintances.
Being watched attentively by the God, and when you could perform the best as a result of your everyday study, let's remember to visit to the shrine for offering your thanks.
It is ok to visit some years later if you live in a country far from Japan.
Please offer your thanks at conferring place of personal amulets and charms.
If you join to the ceremony of reporting to deity, let's listen carefully as Shinto priest will read out your address, name and your achieved qualification or university.
When you hear it from Shinto priest at the main building, you may again realize your achievement, and you may feel motivated.
Along the approach, there line shops of a specialty "Umegae Mochi Rice Cake" in a row.
The sightseeing is also recommended while eating Umegae Mochi Rice cake, freshly made and freshly baked.
Umegae Mochi is a small rice cake filled with mashed sweet bean paste wrapped with a baked thin rice cake.
There is a brand of plum on a surface, and it is just a mark with no taste of plum.
When you eat, the most delicious is a freshly baked, but if you take it home or hotel, because the rice cake becomes softened, it will be a different texture.
Dazaifu, Approved as Japan Heritage
Dazaifu that was located in Dazaifu City, Fukuoka Prefecture, used to be government agency, was placed in ancient Chikushi country.
Today's Kyushu and island countries around were subject to governed by Dazaifu, and it worked mainly of foreign affairs and defense.
As the governing power of imperial administration weakened, it is thought that it was abolished in the 12th century.
Remains of government buildings are called as "Tofuro ato (remains of capital towers)", and have now been improved as a park.

On the ground, where once located the main building, as you can see, there stand three stone monuments.
Each monument was built for praising the history of Dazaifu, and from that as well, you may understand deep appreciation of a local community to Dazaifu.
In the remains, there remain cornerstones that you can understand very large size, supported the government buildings.
And you can also experience to see gates, corridors, and the remains of governments around.
"Dazaifu History Museum" that you can learn and understand better about the history of remains of Dazaifu Government buildings is operated by Dazaifu City Koto (old capital) Preservation Association.
Other sightseeing spots, such as "Gakkoin Ato (Remains of a training school), "Kaidan-in Temple", and "Kanzeon-ji Temple" are located within 5 minutes walk from there.
Kanzeon-ji Temple was built for Emperor Saimei by Emperor Tenji, a son of Emperor Saimei, and was completed in 746.
The sound of national treasure "Bonsho (Temple bell)" that is the oldest in Japan and is said that was of Hakuho period had been also read in a waka poem of Sugawara no Michizane, who was sent to Dazaifu.
Also, it is said as the best hall of Buddhism art in Kyushu, and you will be overwhelmed in the treasure hall by masterpieces of statues of Buddha, including Bato Kannon (horse-headed Kannon) taller than 5 m.
Kanzenon-ji Temple stands like protected by big trees that are covered with moss at foot.
The temple ground is very quiet and a space that you can relax.
Mentaiko(seasoned pollack roe) Best Fukuoka souvenirs

Talking about specialties of Fukuoka, it can be counted many like tonkotsu ramen, Karashi Mentaiko (spicy pollack roe), Mizutaki (Chicken hot pot), and Motsunabe (a hot pot with beef or pork motsu(offal)).
It is absolutely recommended as a trip destination where you can fully enjoy whole city both for gourmets and sightseeing.
At "Ganso Hakata Mentaiju" located in Nishinakasu, one whole pollack roe of homemade mentaiko wrapped with a well marinated kelp appears proudly on the rice.
Not just visual impact, but of course it is very tasty.
And special topping sauce with full of tasty components brings our more flavors, so you will eat more rice happily.
You can select spicy level either standard or spicy, so please enjoy as you like.
Talking about "Yamaguchi Aburaya Fukutaro", you may know that it is a famous shop for "Menbei", a baked rice cracker with mentaiko taste besides making and selling delicious mentaiko.
At the cafe corner of Tenjin Terra branch, there lines up menus, such as drinks and desserts and a bowl of rice with unlimited signature mentaiko.
"Mentai bowl" is a set menu of two kinds of mentaiko that change everyday, an egg, a small dish, and a miso soup, and the unlimited mentaiko is so tasty that you may eat numbers of bowls of rice.
"Haku Haku" is food and culture museum of Hakata located in a place about 4 km from "Fukuoka Airport".
It is the place where gathered all the fun off Fukuoka/ Hakata all in one place.
Here you can experience cultures of Hakata, by observing the factory that you can learn production process of mentaiko, by making original mentaiko just for yourself at Taiken Kobo (experience workshop), and seeing around in the museum where you can learn crafts and festivals of Hakata.
There of course lines up mentaiko for souvenirs at a shop, so why don't you stop by during Fukuoka sightseeing for sure?
Kyushu National Museum, Asippa

Kyushu is the place where you cannot tell a story without knowing interactions with overseas, from the beginning of history of forming Japan as one nation.
Opened as the fourth in Japan as national museum is Kyushu National Museum.  At the ordinal exhibit corner, items related to Japan's interactions with Asian countries and Europe are exhibited with regular rotation.
In "Asippa", which is said that it was named from "Asia no Harappa (An open field in Asia)", you can experience with more fun.
It is a space where you can feel Asia closer, with a sense of more like "playing" than "learning", and also gathers popularity of tourists.
There is "Asigalle (Asia + gallery)" at the far end of Asippa.
Here is a corner exhibited ethnic musical instruments of each country.
Of course, here also you can actually try playing them.
There is traditional music called gamelan in Indonesia.
As it is played by multiple instruments, it is like an orchestra if in Europe.
Instruments used for this gamelan are also exhibited.
Let's confirm how tones change according to the sizes of drum by actually playing them.

Asippa(Ajippa) in Kyushu National Museum Nearby Dazaifu Leads you Back to Childhood
The place is right next to Dazaifu Tenmangu Shrine of Fukuoka where ...
Komyo Zenji Temple, a World of the Quiet

"Komyo Zenji Temple" is said as "Kokedera (Moss Temple)" of Dazaifu.
When you enter to the main building, there spread wide space of tatami mat floor, and you can view the backyard over there.
Although the main Buddha is settled in the center of wide space, visitors entered here walk toward the garden as if attracted, and as soon as they view the whole landscape of garden, most of them become momentarily speechless with its beauty.
The name of garden, expressing lands and islands with moss and expressing water and the big sea with white sand, is "Itteki Kaitei"
When viewing from the main building, you will see landscape of a river flowing from a deep mountain and to a big sea as if a picture scroll.
According to the position of the Sun, during the hours when the sunlight reflects on Japanese maple tree, color of leaves reflects beautifully onto the floor wood of main building.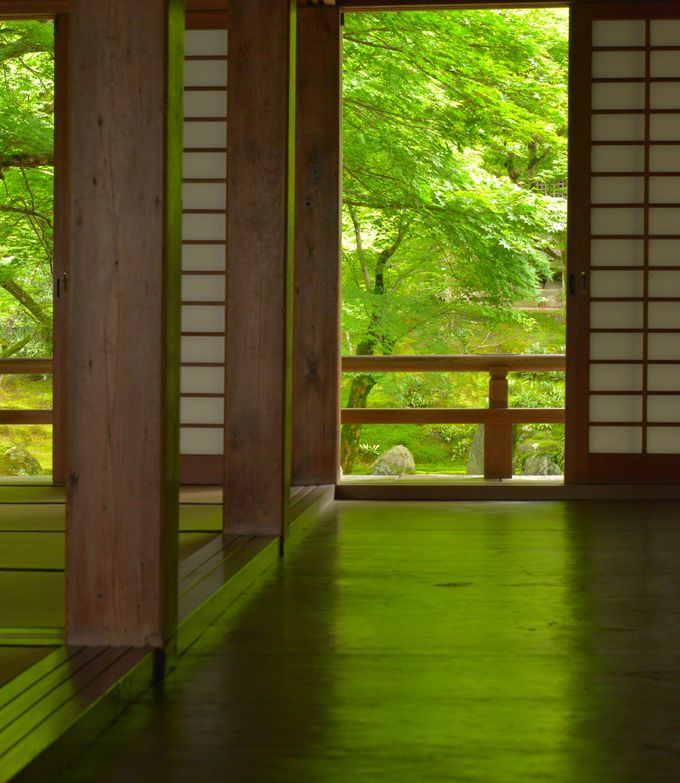 This photo was taken in early summer, and regrettably it was during the hours when the sunlight reflected only a part of Japanese maple trees.
Nevertheless, green reflected gently on the floor like this.
In fresh green season or autumn leaves season, if you visit this temple during the hours when the sunlight showering onto trees, please also enjoy the colors reflecting on the floor for sure.
Hakata gourmets, Introductions of famous restaurants

When you say specialty of Hakata it is  (a hot pot with beef or pork motsu).
The more you chew meaty and chewy Falstaff, the more you feel sweet and delicious taste, and it is the moment that you taste your happiness.
A recommended soup of "Oyama" of Motsunabe is "Miso".
Even if you think of having a bit light taste soup, please try eating as per recommendation of the shop at first.
Mild flavor of miso bring out the taste of motsu.
It is lighter taste than you think, but when boiled up the strong taste of "miso" comes up anyway, so let's ask for adding broth without hesitation.
Although there are numbers of Hakata gourmets, you cannot miss out Mizutaki (Chicken hot pot).
At "Mizutaki Nagano", a famous restaurant of Mizutaki, all the taste of a whole chicken are concentrated in milky white thick soup, and even only this is enough to be worth of excitement.
And then, an attendant of the restaurant will serve putting slowly chicken meat balls, chicken hearts, and vegetables.
After putting spring onions and spiced grated radish into soy sauce with vinegar, you will eat meats and vegetables dipping into the sauce.
It is the happiest moment.
You can eat all the taste with congee for the finish, so it is a very satisfying dish.

There is almost always "Goma Saba" in a menu of Izakaya, a Japanese bar restaurant, of Hakata.
As in name, it is sashimi of mackerel (Saba) dressed with sesame (Goma).
You can eat it fresh because you are in Hakata.
Although blue mackerel is called as "Goma Saba" in Japan, usually "Ma Saba (club mackerel)" is used for the dish, and it will be dressed with a soy sauce with sesames.
It does not smell fishy, so even if you do not like blue fish…., I would like you to taste this dish for sure when you come for Hakata sightseeing.

8 Selections of Hakata Gyoza
Gyoza matches excellently to a beer and is a splendid locals' favori...
Noko-no-Shima Island, Flowers by Four Seasons
There is "Noko no Shima Island Park", a popular sightseeing spot on Noko no Shima Island, floating in the center of Hakata Bay, Nishi Ward, Fukuoka City.
As it is located near from Tenjin/ Hakata, it is perfect for an easy short trip.

Nokonoshima Island, feel nature in an isolated island in Fukuoka
Nokonoshima Island Park is located on Nokonoshima Island in the cent...
As you can view the sea everywhere, there are superb views wherever you reach by walking!
In autumn, cosmoses are in full blooms at "Noko no Shima Island Park", and contrast of blue sea and sky is very beautiful.
Besides cosmoses, it is also famous for canola flowers, cherry blossoms, and narcissuses, so it is also good to visit according to the best seasons.
Noko no Shima Island, where flowers of four seasons bloom, and with rich nature, is a small island floating alone in the center of Hakata Bay.
Some 500 thousand canola flowers are in full bloom during middle of April on all over the flower ground where viewing Umi no Nakamichi afar.
Blooming with background of blue sea, canola flowers of about the same height with adults are beautiful masterpiece.
In the canola flower fields where proudly bloom all over the gentle slope, there prepare handmade paths for strolling.
So, it is also wonderful strolling slowly surrounded with spring canola flowers in full bloom and with comfortable sea breeze.
"Flower small path" just near to the park entrance is a must-go strolling spot, where flowers by seasons bloom lovely.
From April through middle of May, vivid colored azaleas, pretty poppies, and marigolds bloom, and you can stroll while enjoying the flowers of a season.
When you go further, there appears a "Street of memories" where relocated traditional Japanese merchants houses that were in Hakata.
Here are a shop where you can experience a pottery, and a restaurant where you can taste baked oysters caught at Noko no Shima Island until early spring.
Amaou(Strawberry) Fruit Picking
Located in Asakura District, Fukuoka Prefecture, "Lion Fruit Farm" is the recommended sightseeing spot for the one who likes to try fruit picking and eating Amaou of Hakata, home of Amaou, by your own hands.
You can see very large Amaou that seems larger than your palm.
*Amaou is the name of strawberry
Moreover, a strawberry, called as "Lion strawberry", of rare species that you can eat only in this fruit farm is cultivated.
In Lion Fruit Farm, as strawberries are planted on the higher position, you can enjoy picking strawberries while standing.
It is the one of the largest strawberry farm in the West Japan, and is planted surprisingly about 60 thousand strawberries.
You can slowly eat up strawberries until you satisfied in a spacious greenhouse.
"Strawberry Fields (Chikushi Noichigo Farm)", located in Fukuoka Prefecture, is located accessible place even for sightseeing from afar, taking only about 30 minutes by car from Fukuoka Airport.
What the best point of this farm is that you can eat and compare various kinds of strawberries that you can eat only here, including very rare white strawberries, and pink strawberries.
Other than white strawberries, you can enjoy various kinds of strawberries, such as "Amaou", "Yayoi Hime", Beni Hoppe", and "Saga Honoka".
"AMAOU strawberry", a king of strawberry, is named taking the first letters of Amai (sweet), Marui (round), Okii (big), and Umai (delicious).
There may be many of you know it as a luxury strawberry, produced only in Fukuoka.
There are also numbers of tourist souvenirs using Amaou.

"Amaou strawberry milk taste" of "Hakata no Hito", a classic souvenirs of Hakata, is a bite size confectionery, a milk-kan (a sweet milk jelly) of white bean paste wrapped with Baumkuchen of Amaou strawberry taste.
When you bite, moist and sweet sour taste spread in your mouth.
Yanagawa, Water Capital with Full of Elegance
There are many tourists visit to Yanagawa City, Fukuoka Prefecture, where is famous for "a boat ride", which flows elegantly on canals flowing in the city, for the house where Hakushu Kitahara was born, and for "Ohana", the house of Tachibana family who was the lord of Yanagawa.
A donko boat is slowly flowing in canals with splendid controlling technique of a pole by a veteran boat master.
There are thirteen bridges in a boat ride course.
Some bridges are low and when a boat goes under the bridge, it will be just close to your head.
You can also enjoy thrilling feeling.
"Yanagawajo Castle moat water gate" was constructed for the defense of castle at the time of castle construction of about 400 years ago, and it is the only water gate to enter inside the castle.
As also available for private usage of a whole boat, why don't you enjoy by your family of by a group without hesitation?
A water town Yanagawa is a famous sightseeing place of Fukuoka.
Originally, Yanagawa was a low wetland created by Ariake Sea, and the land was not abundant with water, but always had flooding.
Rivers and canals, which were created by the local people for making the land living places and farmlands, are flowing around the town horizontally and vertically.
There are many tourists visiting also from overseas to enjoy this beautiful landscape.

7 Recommended Activities to Experience in Fukuoka
The gateway to Fukuoka is Fukuoka city, the largest city in the Kyus...
Please enjoy by all means Yanagawa where are relaxed atmosphere of a castle town and elegance.
Many of you may know about Hakushu Kitahara, who was a poet, formed Tanka-kai (Japanese poet meeting), and did Douyou(Nursery rhyme) Motion.
Later, Hakushu was praised as "great poet", who clearly mentioned that his home town Yanagawa was "the mother of my poets".
The house where Hakushu was born has been reproduced and opened to public.
There is also "Yanagawa City History Folk Museum" in the far end of the ground, so you can see the items of remembering Hakushu and you can learn about history and climate of Yanagawa where can be said as a poem soul of Hakushu.
Fukuoka Sightseeing Is not only for Gourmets!
How did you find?
Besides, there are many other sightseeing spots that we could not introduce this time, such as "Fukuokajo Castle", Fukuoka Tower", "Hakata Port Tower", "Canal City Hakata", and "Riverwalk Kitakyushu".
And, although said that it is not only for gourmet, there are full of delicious dishes wherever and whatever you eat in Fukuoka!
Please fully enjoy gourmet and sightseeing for sure when you trip to Fukuoka!

BOSS E ZO FUKUOKA, A New Attraction in Fukuoka
BOSS E ZO FUKUOKA is the newest addition to Fukuoka's PayPay Dome. ...

Travel to Fukuoka, 9 Things To Keep in Your Mind
In Fukuoka, there are many places to see, such as Hakata downtown, N...

Kokura Castle In Kitakyushu, Learn History With Activity!
An entry point of Kyushu, Kokura is in Kitakyushu. It is a larger...