Toji Temple is popular for one of the tourist destinations, and it's one of the  Kyoto's most prestigious heritage site.
Because I live nearby Toji Temple, let me introduce Gyoza shop in Toji as a local Kyoto person.
The shop name is Mr.Gyoza

3 Gyoza Shop Around Hakata Station
Speaking of food in Fukuoka, mentaiko, ramen and motsunabe are fomou...
About Mr.Gyoza

The location of Mr.Gyoza is about 5 minutes on foot from Toji Temple.
Because the store locates slightly away from Toji Temple and slightly residential area, it's not easy to find who don't know Mr.Gyoza.
This is why Mr.Gyoza is popular among local.
In fact, people are lineing up in week days at night and holidays in the afternoon seeking local gyoza.
Access
5-minute walk from Toji Temple, and 10-minute walk from JR Nishi-Oji station, here is a map.
Address:Kyoto Prefecture Minami-ku, Kyoto City Karahashi-Takatacho 42
Fixed Holiday:Basically, Thursday is a holiday.
How is the Taste?

Its outside is grilled crisply, but the texture is firm and mochi.
Garlic worked well inside of Gyoza, but it doesn't so heavily worked.
Plenty of well-balanced pork and cabbage inside, and the umami taste of pork and the sweetness of cabbage are matching.
Although it doesn't have a strong impact, you will never be get tired of its taste, and it seems to be eaten even every day.
Experience Showa Period Atmosphere

Mr. Gyouza is a small Chinese style restaurant founded in 1946.
You can eat gyoza and ramen mainly.
Many of local men are eating rice and gyoza with beer at counter.
Those customer usually office worker.
Although it's so popular that mr.gyoza is crowded, rotation of the customer is fast.
So, we don't need to wait long time to reach gyoza.
In the daytime, it is lined up regardless of the holiday (usually about 5 people are lined up outside the store every time I see)
Time to go is recommended about 16 o'clock in the evening personally.
If You Couldn't Eat

I think that there are cases where customers are too lined up or
could not eat because they were not open because of shop circumstances.
Available at a Supermarket Near Toji Temple
It is sold at supermarket called Fresco near Toji(frozen gyoza).
It is located about a 3-minute walk from Toji Station.
As far as I know, there are no other stores, and they only sell to this fresco.
The place of the shop is here.
Address: Minami Ku, Kyoto Nishikujo Higashihieijocho 80
Gyoza are in a bag like this. (10 pieces included)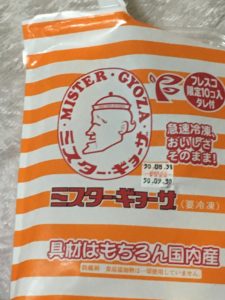 Finally
Speaking of dumplings nationwide in Japan, the "Osho" is famous.
It is the same in Kyoto.
Although it is not so conspicuous, please try it when you come to Kyoto as a hidden restaurant.

Stimulating! "Kyoto Showa Retro Shop Himitsukichi" in Toji, Sense Shines in Mysterious
A building that gives off a strange and different color to street wh...

12 Ichijoji Ramen in Kyoto
Kyoto has "ramen koji" where many ramen shops of all over Japan are ...