GUEST HOUSE TENKU is the first guesthouse opened in the castle town of Takeda Castle Ruins, known as "the castle in the sky", of Asago City, Hyogo Prefecture.
As it was just opened in April 2017, it is of course beautiful, and rooms, a living room, kitchen, and baths are spacious, also there are private bed rooms on the second floor.

Takeda Castle Ruins And 7 Recommended Tourist Attractions Around Castle
Speaking of the representing sightseeing spots of Asago City, which ...
This is an inn that as if changes an image of the current guesthouse to a totally new.
Convenient For Accessing From JR Takeda Sstation

Takeda Castle Ruins where you can enjoy fully rich nature by four seasons.
GUEST HOUSE TENKU is located at the foot of Takeda Castle Ruins, which is also called as "the castle in the sky" and "Japan's Machu Picchu".
It is located on Teramachi street, a full of castle town elegance, where just close from Takeda station by walk.
Originally, this inn was said that used to be a private house of local residence of Takeda that is a town of furniture.
With remained the appearance of Japanese style massive and calm elegance, the inn is characterized by reproduced ridge-end tiles with Shachi (a killer whale), which were collected from Takeda Castle Ruins.

Unique Unusual Hotels That Are Becoming Popular in Japan
Staying luxury and brilliant hotel makes your trip fun. But, that...
The curtains dyed in blue with a design of an image of Takeda Castle Ruins at the entrance are also impressive.
Right after entered at the gate, there is a space of tatami mat, and there remain, as it were, designs as if imaging bamboos, and frosted glasses of doors.
Lighting with some atmosphere also remain used as it were, and these create the Japanese modern atmosphere.

There is a chest of drawers under stairs that goes up to the second floor.
As may expected, it is only in the town of furniture.
Such a chest of drawers under the stairs, of course, is very practical, and you can hardly find it in an ordinary house.
Various Types Of Rooms In GUEST HOUSE TENKU

There also are various types of guest rooms.
There are four rooms in total, two rooms of each man's dormitory and woman's dormitory, on the ground floor, and there are four private rooms on the second floor.
There are eight rooms in total.
Above is the man's dormitory.
It is a calm Japanese style room and there are two of these.
You can rent a whole room if you stay with more than three guests, and it is also OK to use by a family.
You can also use two rooms connected depending on numbers of persons to stay.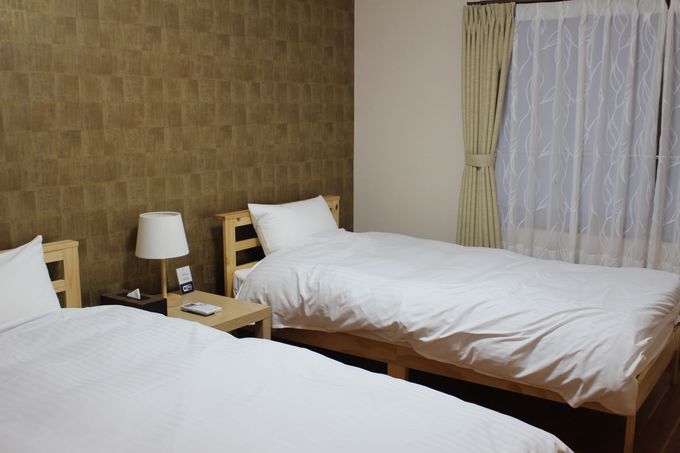 This is a private bedroom.
There are four rooms on the second floor, and there are three rooms of two persons of maximum numbers to stay like this.
Each color of wallpaper is different, and atmosphere of the rooms are a bit different.

The most popular room is this Japanese Western style room of two rooms connected.
As the maximum number of guests to stay is five, it is perfect to use by a family.
And you can view Takeda Castle Ruins from this room.
It may also be the reason why it is popular.
Highly Functional Kitchen And Spacious Living Room

The best charm of a guesthouse is that there is a common space.
Also, the one of the characteristics of this inn is such satisfying and complete space.
This kitchen is very clean and spacious, and also very functional.
Two system kitchens are equipped with IH cookers, so you can of course cook simple breakfast, and also you can cook in full scale.
There are not only kitchenware but also tableware prepared.
As there also are a clay pot and a portable stove, you can prepare here and can dine in a neighboring living room.

Here is a living room.
It is fun to talk while dining and to interact while having a cup of tea, isn't it?
There are many foreign visitors for Takeda Castle Ruins sightseeing, so you can expect international interaction here as one of the charms of the inn.
Baths and Restrooms Are Also Clean And Beautiful

Though there is only a shower in most of the guesthouses in Kyoto or Nara, here are bath tubs each for men and women.
Washing place as well as a tub are spacious.
You can use a bath tub from 6PM to 10PM, and if only shower, you can use for 24 hours.

There also are many washing stands and toilets.
There are three washing stands and one toilet near the bath for women.
There are the same for men.
There are also washing stands and toilets on the second floor, also there are different toilet on the ground floor, so you do not have to expect waiting for toilet in the morning as happens often in a guesthouse.
You can also use a rental bicycle at "GUEST HOUSE TENKU".

It is also very fun to go around slowly the castle town of Takeda by bicycle!
Five bicycles are stand-by at this inn.
Caution
Reservation in advance is recommended.
Hours of use: From 9AM to 6PM (until 5PM during October through March)
Charge: 200 Yen/ one hour, 500 Yen/ four hours, 1,000 Yen/ one day.
It is said that there is a service that you can use it free of charge for one day if you are a tourist who came from afar by train, by assistance system of the Prefecture during July through November.
Please ask for the further information from GUEST HOUSE TENKU.
Enjoy Going Aaround Takeda Castle Town, staying at GUEST HOUSE TENKU
As it is a guesthouse, they do not serve food, but there are many restaurants around in the Takeda castle town.
As there are restaurants where you can enjoy a set menu for breakfast, why don't you enjoy going around the town with the inn as your base?
Please check and confirm the latest information on the official websites.