Which onsen do you think of when you are asked "Which hot spring do you want to go in Japan?"
The answer is definitely "Kinosaki Onsen" in the city of Toyonoka, Hyogo.
It takes 2 and a half hours from Osaka and Kyoto.
Recently, more and more people are visiting Japan.
In fact, tourist from overseas are increasing in 36 times from 2011 to 2016 according to JINTO.
So, what is such attractive to foreign tourists?
Related tour:Sanin Coastal Nature Course of Half-Day Tottori Nature and Culture Tour on Private Taxi
Experience Yukata and Food In Kinosaki Onesn
There are 2 pleasant things you can experience in Kinosaki.
Actually, you can walk through the old atmospheric streets wearing yukata.
Wearing Yukata
Basically, you can rent Yukata in Hotel or Ryokan you are staying.
Yukata is in Japan, one of the amenities of the accommodations.
So, it's ok to change your clothes into yukata and headed to onsens after you check into your hotel.
However, yukata of hotels is usually simple design, so sometimes it makes you feel not enough.

For such tourists, "Iroha", which is the store of yukata is highly recommended to go.
The store also offers yukata for rent or sale.
Iroha has 100 types of Yukata in the shop, so that might get lost in choosing yukata.
Also, if you bring your yukata of the hotel you are staying, they will help you to put it on.
Since Iroha has some plans for rent, you can check it more about official site of Iroha.
Food In Kinosaki, Hyogo
Speaking of Kinosaki Food, mainly these 3 are famous: fresh fishes, Tajima Beef and crab sushi.
Kaisen-don

As for fresh fishes, Kaisen-don(Bowl of rice topped with fish such as sashimi) is highly recommended to feel Japanese style.
You can taste many seafood with one bowl of rice.
Seafood are such as salmon, salmon roe, sweet shrimp and red snapper.
Since Kinosaki is located cloese to Sea of Japan, many of restaurants can offer us fresh seafood.
Famous seafood restaurant is Okeshousengyonokaichuen located by Kinosaki Onsen station.
Tajima Beef

Tajima cattle is famous for luxury beef in Hyogo prefecture.
Tajima cattle were originally kept in Hyogo Prefecture for cultivation and transportation.
Now that the high quality of Tajima beef has become popular, and it has spread throughout Japan as a "origin cattle", a cattle in the half of years old shipped to throughout Japan to raise in various regions.
So, all brands of beef, including "Matsusaka Meat" in Mie Prefecture and "Omi Meat" in Shiga Prefecture, are said that they draw the blood of Tajima beef without exception.
Recommended Tajima beef restaurant is Tajimagyu irori dining mikuni located by Kinosaki Onsen station.
Crab Sushi(Kani Nigiri)

Crab is also luxury seafood in Japan.
Although not so many foreign tourists try crab when they visit Japan, its sweet and thick taste is popular for Japanese.
Recommended restaurant that serves crab is Daikokuya located by Kinosaki Onsen station.
All of these 3 restaurants are really close to Kinosaki Station and easy to access.
Please try once when you visit Kinosaki Onsen.

10 Ryokan(Hotels) In Kinosaki Onsen For Your Lifetime Memory
Kinosaki Onsen, located in Toyooka City, Hyogo Prefecture, is a perf...
Old Days Experience of Japan with Onsen
If you search photos on the website, you will figure out that the landscape of Kinosaki is totally different from main tourist place such as Tokyo, Osaka and Fukuoka.

Unlike urban cities of busy streets, glowing neon and the smell of food, Kinosaki remains atmosphere of good old days of Japan.
Onece you get outside from the station in Kinosaki, landscape take you time travel of old Japan.
Since its nostalgic view and onsens of the city, Kinosaki was selected as the best hot spring area where yukata suits in Japan.
Treat Tourists with Hospitality of Japan
Kinosaki, the town itself is filled with hospitality.
That is the one of the reasons why more and more foreigners are visiting.
Free WiFi in Kinosaki

Maintenance of free WiFi is so delayed in Japan that tourists have few places to access free WiFi.
However, you will never be worried about it in Kinosaki.
It's because there many wifi spots offered by Toyonaka city mainly Kinosaki Onsen area.
SSID is "TOYOOKA_CITY_Free_Wi-Fi".

Mobile Hotspot(WiFi) for Japan Travel
I think most of people trip to Japan have their smartphones. Inte...
Explanaion of How to Wear Yukata(Iroha)
As it showed earlier in this page before, yukata shops help you to put yukata in.
However, after taking bath or onsen, it's necessary to wear yukata all by yourself.

Although yukata shop explain how to put it in, foreigners often forget how to put it in.
As a solution to avoid such bitter experience, washcloth(tenugui in Japanese) shows how to wear yukata on itself.
It's available at Iroha that cost 1200 yen.
If the explantion is on a paper, it eassily broken, but it cannot be broken even in a bath, and you can wear yukata while looking at the towel.
Currency Exchange Machine(Iroha)
In Japan, Iroha in Kinosaki is the only place where currency exchange machine exist.
Usually tourists need to go bank or airport to exchange money.
But, you don't have to withdraw money a lot in once when it comes to travel to Kinosaki.
The machine corresponds to 12 currencies.

Ogoto Onsen Hotels and Attractions
Although Shiga prefecture is next to Kyoto, not so many tourists vis...
Map And 7 Hot Springs in Kinosaki
There are 7 onsens in Kinosaki.
Above is the map around Kinosaki Onsen.
All of them are easy access because they are close for each.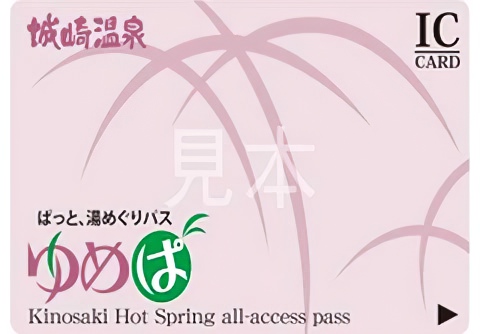 From Satono-yu which is the closes onsen from Kinosaki Station to Kono-yu which is the farthest onsen from Kinosaki Station is 15 minutes on foot.
To complete all hot springs in Kinosaki, one day onsen pass is available in any of hot spring of 7.
Satono-yu
Satono-yu is located next to Kinosaki Station, so it's convenient to access. Satono-yu features many different saunas, Jacuzzis and outdoor baths.
Even if you don't have enough time to go around Kinosaki, you can feel free to stop by.
Open: 1:00 PM – 9:00 PM
Closed: Every Monday
Entrance Fee: Adults (800 yen), Children (1-12 , 400 yen)
Jizou-yu
Jizou-yu is also relatively close to Kinosaki Station, takes 5 minutes.
It is said that Jizou-yu brings your family safety.
Jizou-yu features bathing facilities with high ceilings and a modern interior.
Open: 7:00 AM – 11:00 PM
Closed: Every Friday
Entrance Fee: Adults (600 yen), Children (1-12, 300 yen)
* Private baths are also available
Yanagi-yu

It is the smallest one among the 7 hot spring.
Simple structure is popular.
It is said that Yanagi-yu brings healthy children.
It is located in central of Kinosaki, it is popular with both locals and tourists.
Open: 3:00 PM – 11:00 PM
Closed: Every Thursday
Entrance Fee: Adults (600 yen), Children (1-12, 300 yen)
Ichino-yu
It features a cave bath filled with wilderness using natural rocks from Mt.
Because it is half-opened, the cold outside is comfortable for tourists.
It is known as a good luck hot spring.
Open: 7:00 AM – 11:00 PM
Closed: Every Wednesday
Entrance Fee: Adults (600 yen), Children (1-12, 300 yen)
* Private baths available
Goshono-yu
Goshono-yu is also one of the largest and newest hot spring which was renewal opened.
The feature is it has bath with open-air baths.
Open: 7:00 AM – 11:00 PM
Closed: Every first & third Thursday of the month
Entrance Fee: Adults (800 yen), Children (1-12, 400 yen)
Mandara-yu

Mandara-yu offers a quiet and traditional hot spring experience it has long history.
Note that sometimes entrance is restricted when it is crowded.
It features open-air baths of Okeburo that is made of Moth.

Open: 3:00 PM – 11:00 PM
Closed: Every Wednesday
Entrance Fee: Adults (600 yen), Children (1-12, 300 yen)
Kouno-yu
Kouno-yu is located at the far end in Kinosaki.
The water temperature is relatively high that please be careful when you take bath.
It is said that the waters of Kouno-yu provide longevity and happiness in marriage.
Open: 7:00 AM – 11:00 PM
Closed: Every Tuesday
Entrance Fee: Adults (600 yen), Children (1-12, 300 yen)
At The End
Kinosaki Onsen has a lot of things to experience Japan such as wearing Yukata, 7 famous Onsen and hospitality that makes satisfied tourists.
The location is close to Osaka and Kyoto that we need about 2 hours to get Kinosaki.
Once you start walk around after you get Kinosaki wearing Yukata, you can't enjoy all of attractions in one day.
Please stay and have fun with slow and calm atmosphere of Kinosaki.
Hope to enjoy the goodness of landscape of Japan in Kinosaki.